Why and how we support Slow Fashion
by / Oct 01, 2021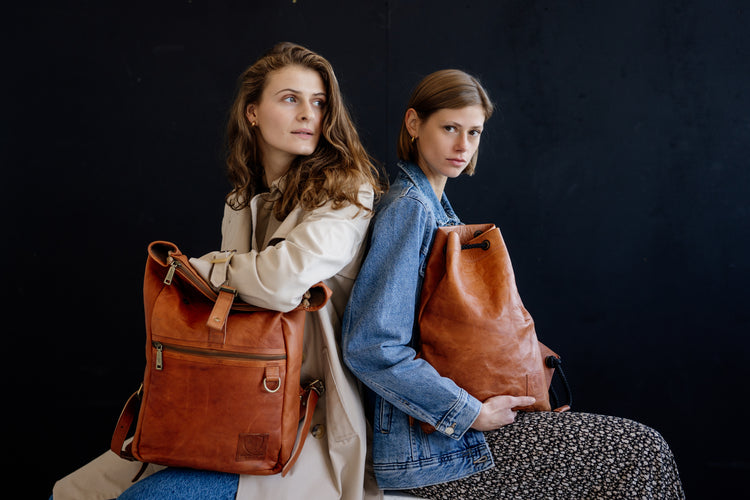 Why we choose to support slow fashion
Today's fashion industry is rapidly changing, and no matter how good it is, it brings lots of problems. This rapid change costs factories to produce more garments despite being poor-quality which results in excess waste as time goes by. A lot of designers and creators are working on solutions, and we at Berliner Bags aim to make a difference by following a slow fashion.

Slow fashion is a choice and a lifestyle. It is giving importance to quality than quantity and more of understanding your needs than following trends. It is buying and keeping only what you need than buying and hoarding tons which are financially exhausting.

Today where everyone is struggling, including our planet, minimalism is the new ultimate movement. Aside from clothes and shoes, investing in high-quality and sustainable leather bags is essential in getting and keeping a minimalist wardrobe.



The 4 Benefits of Slow Fashion
1. It is meant to last for a long time
Most of the time, apparel is handcrafted carefully by workers rather than machines which means that the products regularly undergo a meticulous quality check. The materials used are durable and sustainable that makes them long-lasting. Leather, for example, is the best material in making durable bags and slow fashion backpacks. It is soft, flexible, eco-friendly, and can last for decades if properly taken care of.

2. It is unique
In slow fashion, the details and designs are carefully studied and crafted to create a unique style that is highly functional. Only a few products are made each year to ensure that there will be no overproduction, and there is no need to sacrifice the quality.

3. It has a positive environmental impact
Compared to fast fashion, slow fashion uses eco-friendly and durable materials, so you do not have to worry about excess waste. A lot of them are biodegradable and do not use harmful chemicals, making them environmentally-safe. Also, since fewer products are made each year, they contribute less to pollution, and this makes slow fashion superior!

4. It can save you time and money
Having few options in your wardrobe will save you time from deciding what to wear. You can focus more on what is appropriate to wear. You will gain confidence from it because you know that the items inside your wardrobe are your best. Having a slow fashion and minimalist mindset will definitely save you money because you are satisfied with the wardrobe you have. You will buy and shop less, and the money can be spent on more important things.


How to get a slow fashion wardrobe
Be practical and think about the stuff you need and wear daily, and keep them. If you live in a hot climate, limit your jackets, scarves, and gloves to just a few, simple basic pieces. You will not need them until winter. Think about your style, favorite clothes, profession, and the clothes you are most comfortable and confident to wear.

Say, for example, you work in an office. Your wardrobe should consist of corporate clothes, few pairs of corporate shoes, and durable leather bags that will surely last for a long time and save you money from buying new ones.

After you have sorted out your wardrobe, the next thing to do is to find ways on how to dispose of your rarely-used stuff. You can either donate it to your friends or charities, sell it to thrift stores, or swap them with your friends.

When buying, choose high-quality products that will fit your needs and function even for a long time.

Why choose Slow Fashion by Berliner Bags?
If you are one of those people who are planning to have a more sustainable lifestyle and minimalist wardrobe, consider investing in slow fashion backpacks and leather bags. Compared to bags made from other materials, durable leather bags can save you money since they can last you for decades and you do not have to worry about buying bags frequently.

Berliner Bags offer high-quality leather bags for your office, travel, and personal needs. Our bags are made from genuine leather that is environment-friendly and is crafted carefully to create a minimalist and sleek design that you can use on any event or occasion.

Our production is limited to only a few bag models but, we made sure that all are highly functional and serves their purpose.
We got all your slow fashion leather bag needs! From small products like wallets to business bags like messenger bags to large spacious travel bags.
Unleash your vintage dream with a Ghent messenger bag made from high-quality, sturdy leather perfect for everyday use, be it at work or university. Finally, a bag that can last you for decades and never goes out of style!


For your weekend getaways or visits to the gym, Oslo can be your best companion. A travel bag made from premium-quality leather that has great storage and a sleek design.
Slow Fashion Backpacks 
Whether for work or leisure, it is essential to include a leather backpack in your wardrobe. Our Harlem Dark brown is a perfect choice for a slow fashion backpack. It is made from the finest quality leather that is smooth, thin, yet durable. It has a spacious compartment perfect for your laptop and office needs or your travel kits.


Conclusion

Slow Fashion and keeping a minimalist wardrobe is a lifestyle and commitment that will bring satisfaction not only to you but to our planet as well. Always remember that less is more! You do not have to own tons of garments and apparel in your wardrobe because this can be a root of a problem.

No matter what outfit or style you follow, you can never go wrong with high-quality leather bags! Achieve a stylish, elegant, and classy look without having to break the bank with slow fashion Berliner bags. Come and join us! Together, we can save the future of our planet and have a sustainable lifestyle.