The premium leather collection
by / Aug 31, 2020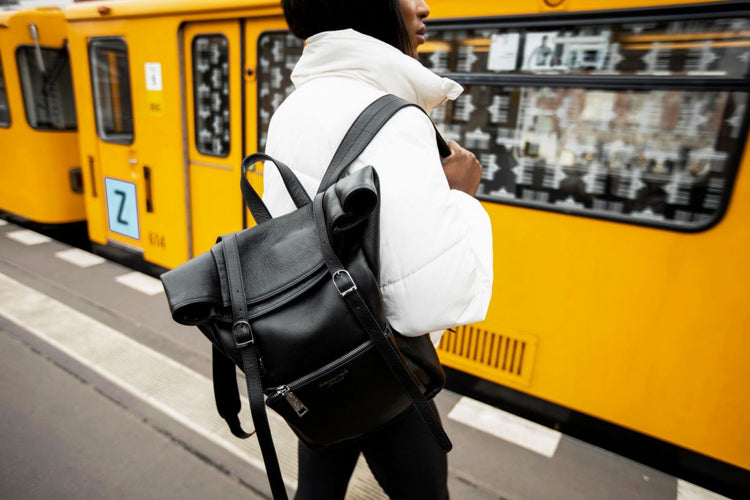 Black – the color of Berlin
Since 2014 Berliner Bags was mainly designing and producing various vintage style bags – from backpacks to pen/cosmetic bags. But as the company grows, the need of new styles and designs increases. The idea to create a new black collection arose in 2018. The idea was to create modern looking backpacks using old vintage design patterns which proved to be successful. As a result, Berliner Bags product family was supplemented by a new Black Premium leather collection. For all products we used finest full grain cow leather, high quality metal fasting elements and branded metal details such as Berliner Bags branded zippers and logos. All these elements helped to create unique and modern looking collection inspired by Berlin city, where our company is based.
Let us introduce to you the premium leather collection
 Backpack Lille
Black. This colour never gets old. It's essential in fashion as it's easy to harmonize black leather goods with other clothes and accessories. As a result, without huge efforts you can get great looks.

Elegant. Black is a queen of elegance. Backpack is made of finest full grain leather which is soft and thin. This backpack fits with your business smart clothes but also with your casual looks, such as comfy jeans and simple t- shirts.

Comfortable. Comfort these days is sometimes more important than looks. But this bag achieves both – good looks and comfort. From a first look it can appear quite small, but actually it can fit all the essentials you need. Special space for your laptop/pad or just a regular notebook. Despite that, backpack also has special spaces for pens, phone or small items. Interior lining is made of soft but durable black colour cotton which matches leather color and creates harmonized view.


Gym bag
Gym bag is truly inspired by Berlin. In Berlin people like small backpacks which fit all essentials, easy to carry but also looks fashionable that you could go to a club or a bar with your friends easily and not to worry about changing your accessories. Interior is made of soft durable black colour cotton lining. Bag has two main storing spaces. One main compartment which can fit books, pad, smaller laptop. On the back side of the bag there is a special zipper pocket where you can keep your more valuable small stuff such as wallet, keys or phone.

Wallet
Made of black and elegant leather, soft, spacious and perfect accessor for a modern man. We created two versions of men 's wallet. One version, more spacious wallet has four main compartments: two spacious slots for unfolding cash, smaller pocket for coins, 8 card slots and photo ID slot made of transparent material and is an excellent choice for people who have more cards and want to have easily accessible ID. Second version is more minimalistic, it has three main compartments: two spacious slots for unfolding cash, smaller pocket for coins and 4 card slots. As safety is our main concern, all our wallets have RFID protective lining.
Coin case

As minimalistic lifestyle is becoming more and more popular in our society, we decided to design a minimalistic wallet – coin case. If you are not a fan of a "fat" looking wallets and don't want to carry thousands of unnecessary cards with you, coin case is an excellent choice. It's really small but fits all things you need – pocket for cash or coins and few slots for credit cards, ID card or driving's license. As the security is a necessity for most of our clients, we used special RFID protective lining to secure your banking cards.


Pouch Anna

Simple yet elegant. Perfect combination with Lille and gym bag. Pouch has one main compartment witch fits cosmetics, pens and hygiene products. High quality metal zipper also adds elegance to this pouch. Super comfy to carry all you cosmetic/hygiene products in one place. Easily can fit in any bag, backpack or shopper. Organizing your stuff smart definitely will save your precious time as you will not need to search for that lost lipstick in your bag!
Enjoy the shopping and explore our new collection inspired by Berlin!